Words by Mija Kovacic
Indirect genocides, radioactive clothes, and some other things…
Everybody Hates Rinehart
Australian squillionare, Gina Rinehart, has solved all our economic problems.
The mining goddess (lulz) addressed the Australian public over her official YouTube channel.
"I believe that any couple making less than $100,000 a year should be forcibly sterilized through a vasectomy or fallopian tubal ligation. Those earning more than $100,000 a year should be encouraged to have as many as 10 or 12 children.
"Only by eliminating waste and focusing on our brightest, most efficient workers can we hope to see off our rivals in the emerging world," she says.
Brilliant.
But loljks it was actually an article written by satirical publication The Daily Current. What was awkward was that the Australian public thinks that much of her, the entire thing was believable.
It's okay guys, we can still go on to live off goon and $2 Maccas deals. Carry On.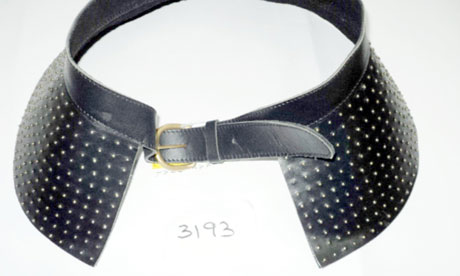 Jiminy Jillikers, Radioactive Man
Online fashion house, Asos, has had to recall a range of studded belts from their catalogues.
The belts, made of peplum leather, were enhanced with a ruffle, some metal studs, and a tonne of Cobalt-90.
Asos claims this is all the result of third world sweatshops mass-producing products next to scrap metal smelting operations.
The manufacturer of the belts, Haq International, has thrown a BF saying this is Asos' way of weaseling out of paying money they owe the brand.
Bitchay.
More Racial Slurs…
I can't get over what a backwards country we must seem to outsiders.
Following last week's highly publicised incident of racial slurs in the AFL, Collingwood President, Eddie McGuire may stand down from his position following his racially insensitive radio rant.
McGuire jokingly claimed that Swans player, Adam Goodes should be used to promote the King Kong musical.
The comments came shortly after he praised the player for his conduct after a teenage  girl called him an 'ape' from the crowd during the clash against the Magpies last week.
McGuire's future in the industry is still unknown.
The French Got Gay Married
Yay!
Being the 14th country in the world to legalise same-sex marriage, France has hosted their first gay wedding.
Just watch the video. They're so happy, and all my creyz.
In other news, someone should look into applying Rinehart's strategy to those protesters.
Adieu!
Category: FEATURED, Serious Section